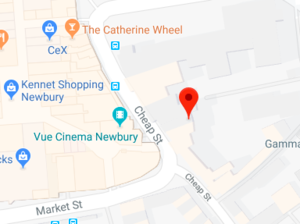 Bramham Therapy
47 Cheap Street, Newbury, Berkshire
RG14 5BX

BY CAR

Driving to Newbury is easy, with good road connections in all directions. We are just a short drive from Thatcham, Hungerford and Marlborough. The large multi-storey car park at The Kennet Centre (RG14 5EN) is very convenient for clients, as the pedestrian exit at the Vue Cinema is just across the road from Bramham Therapy. The smaller Market Street Car Park (RG14 5DP) is also close by.

BY BUS

The main Newbury Bus Station is located less than 100 metres from Bramham Therapy.

BY TRAIN

Newbury Station is located at the end of Cheap Street, less than five minutes walk from Bramham Therapy.