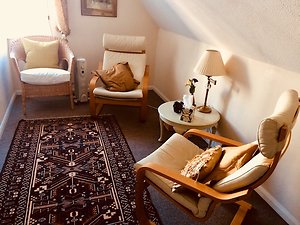 If you have never seen a counsellor before it is completely understandable that you may be unsure of what to expect, or will perhaps feel a little nervous.

Our first meeting would be a chance for us to explore together your reasons for seeking counselling, for you to see how you find the experience of talking to me and for us to consider whether we feel we will be able to work together successfully.

When you arrive at our practice you will press the buzzer to be let in. There is a waiting area you can sit in if you arrive early, I will collect you from there when it is time for our session. We have three counselling rooms which are private, comfortable rooms with a pair of chairs and a low table.

If we decide to work together following our initial meeting we will arrange a regular time for you to come each week for a 50 minute session.

People seek counselling for many reasons, including:
Feeling stuck

Depression

Anxiety

Feelings of loneliness

Family issues and conflicts

Difficulties at work

Stress

Trauma

Relationship Issues

Bereavement

Low self-esteem

Self-harm

Eating disorders

Sexual or physical abuse

Sexuality

Emotional abuse and bullying

Anger

Loneliness